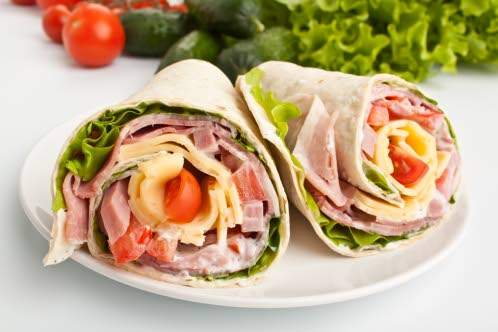 Hamilton's Smokehouse Ham-possible Wrap
You should always have great balance with protein, so consider Hamilton's Smokehouse deli slices including, ham, chicken ham and pastrami.
Ingredients:
1 package Hamilton's Smokehouse Smoked Ham Slices
1 (8 oz) package cream cheese, softened
1 teaspoon prepared yellow mustard
1/2 small onion, diced
2 dashes Worcestershire Sauce
1/2 teaspoon red pepper flakes
3 stalks escallions, sliced
8 flour tortillas
Choice of sliced avocado, lettuce, tomato and red pepper, cheddar cheese
Method:
In a food processor, blend cream cheese, mustard, onions, Worcestershire sauce and pepper flakes until smooth. Transfer to a bowl and stir in escallion, set aside. Line a flour tortilla with 4 Hamilton's Smokehouse Smoked Ham Slices, spread with cream cheese mixture. Add avocado, lettuce, tomato red pepper and cheddar. Roll up tightly. Add a cold pack to the lunch kit to keep the wraps cool.