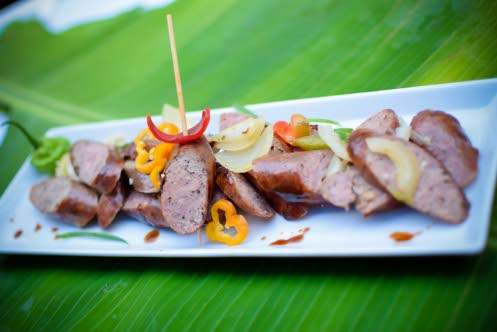 Grilled Hamilton's Smokehouse Sausages with Grilled Peppers and Onion
Ingredients:
1 pack of 1lb Hamilton's Smokehouse Sausages
2 tbs olive oil
1 red sweet pepper
1 green or yellow sweet pepper
1 medium or large onion
1 zucchini
Salt and pepper to taste (for vegetables)
Method:
Prepare and light an outdoor grill (charcoal grill) or heat a stovetop grill pan.
Season bell peppers, onion and zucchini with salt and pepper and drizzle with oil. Set aside.
Brush sausages with a little oil.
Place the sausages over indirect heat for first 10 minutes, turning frequently. Finish over direct heat for 4-5 minutes turning sausages until brown and cooked through.
While sausages are cooking, grill the vegetables on medium heat until slightly charred. Remove from heat and set aside in a bowl to allow for easy removal of charred skin. Slice each sausage into 6 pieces diagonally and serve with vegetables.