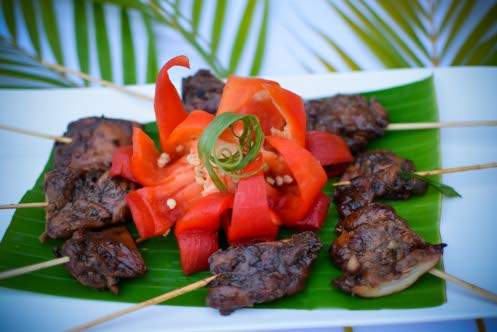 Grilled Chicken Skewers with Jerk-Tamarind Glaze
Ingredients:
12 boneless Best Dressed Chicken thighs
1/2 tsp lime or lemon juice
1 tbs vinegar
8 cloves of garlic
1 finger (1-inch) fresh ginger
1 small onion
1-2 stalks of escallion
1/4 tsp Scotch bonnet pepper
1 small sprig of thyme
1/2 cup olive oil
Sea salt (to taste) * reduce as jerk seasoning has salt
1 tsp mushroom soy sauce
1-2 tsps mild jerk seasoning
2 tbs or 1/4 cup jerk marinade
2 tbs barbecue sauce
4 tbs tamarind paste or chutney
24 wooden skewers soaked in water for 1-2 hours
Method:
Rinse chicken thighs with lime or lemon juice and water and pat dry.
Rinse with water, drain thoroughly and pat dry.
Season chicken with garlic, ginger, onion, scallion, pepper, thyme, oil, salt, jerk seasoning, marinade and barbecue sauce. Set aside and refrigerate overnight or 2 hours until grill is prepared.
Prepare an outdoor barbeque or charcoal grill with hot coals on medium heat.
Using 2 skewers per thigh, thread seasoned chicken thighs onto skewers.
Grill until charred and cook about 6-7 minutes on each side or until the inside is cooked.
Close the lid of the grill to allow chicken to steam for 4-5 minutes for larger thighs if needed or to an oven at 350 degrees F.
Transfer to a cutting board and cut the chicken thighs in half down the middle between the skewers to make cocktail skewers.
Serve as appetiser with mini festivals, grilled flat bread or fried green plantain rounds.