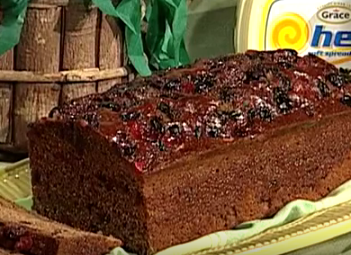 Whole Wheat Easter Bun Recipe
Ingredients
3 oz margarine (melted)
1 tsp cinnamon
1 cup brown sugar
3 eggs
1/3 cup honey
1/2 cup raisins
1/2 cup stout
1/2 cup currant
3 cups whole wheat flour
1/4 cup mixed peel (finely chopped)
3 tbsp baking powder
2 1/2 tsp browning
1 tsp mixed spice
1/2 cup grated cheese (optional)
Method
Preheat oven to 300 degrees F. grease pan generously and dust lightly with flour.
Chop fruit and soak in stout for 5 minutes.
Combine flour, spices and baking powder.
Add melted margarine, eggs, honey, browning and stout to flour mixture. Use a wooden spoon to mix together.
Scraping sides of bowl, add fruits and mix together for another 30 seconds.
Pour batter in one 11″ x 4″ loaf pan and sprinkle fruits on top.
Bake for 45 – 50 minutes or until done.
Remove from oven and brush with bun wash.