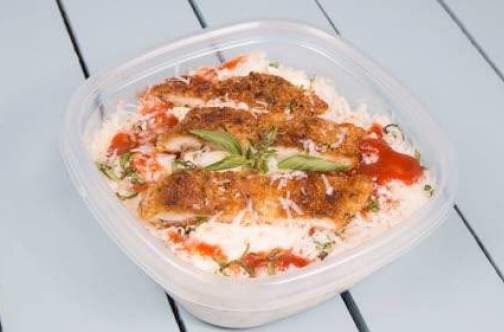 The Best Dressed Chicken Neapolitan Pizza Bowl
Ingredients:
1 The Best Dressed Chicken breast (split in half)
1/4 cup panko breadcrumbs
1 teaspoon thyme or dried oregano
1/2 cup flour
1/2 cup Parmesan cheese (divided)
1 egg (beaten)
2 tablespoon tomato sauce or ketchup
2 cups brown rice
1/2 cup Mozzarella cheese (grated)
1/8 teaspoon black pepper
1 teaspoon salt
2 basil leaves (chopped)
3 tablespoons olive oil
Method:
Preheat oven to 350 F.
Season chicken breasts with salt and pepper. Prepare breading station with three bowls: one with flour, one with egg and one with a mixture of breadcrumbs, thyme/oregano and 1/4 cup Parmesan cheese. Dip chicken in flour, then egg and into the breadcrumb mixture. Heat olive oil in pan. Add The Best Dressed Chicken into pan and cook for 3 minutes until golden brown. Flip chicken and cook for a further 4 minutes. Transfer chicken to paper towel to drain.
Prepare rice per package instructions. Add rice to bowl and top with tomato sauce/ketchup. Add the remainder of Mozzarella cheese. Cut chicken into strips and serve on top of the cheese.