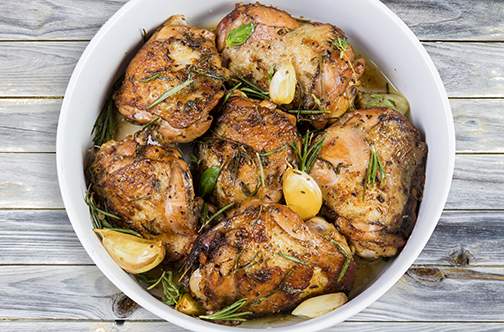 The Best Dressed Chicken Crispy Herb-Roasted Thighs
6 The Best Dressed Chicken (skin-on, bone-in) thighs
1 teaspoon lime or lemon juice
2 tablespoons vinegar
2 sprigs rosemary
2 teaspoons fresh thyme
1 teaspoon fresh oregano
1 teaspoon Italian herbs
1 teaspoon garlic powder
1/2 teaspoon mushroom soy sauce
1/2 teaspoon all-purpose seasoning powder
1/2 teaspoon salt and pepper (to taste)
1 tablespoon olive oil or coconut oil
4 cloves or 1/2 head of garlic (not peeled)
1 tablespoon rice wine vinegar
3-4 tablespoons water
Method:
Rinse chicken thighs with lime or lemon juice and water. Drain well and pat The Best Dressed Chicken dry. Season chicken on top and under the skin with fresh herbs, garlic powder, all-purpose seasoning, soy sauce, salt and pepper. Set aside and refrigerate overnight or for about 1 hour.
Heat the olive oil in an oven-proof skillet or frying pan over medium heat, and sear or "brown'" the chicken skin side down for five minutes on each side. With chicken skin up, add a little water to sides of the pan, garlic cloves (with skin on), sprigs of rosemary and roast open (not covered) in the oven at 350 degrees (F) for about 20-25 minutes until chicken is cooked.
Remove thighs from skillet or pan and place on serving platter. Add tablespoon rice vinegar (optional) and water to the pan, scraping pan to make a little sauce. Pour sauce around sides of platter; add garlic cloves, cooked or fresh rosemary sprigs to garnish.
Enjoy!