Spatchcock Chicken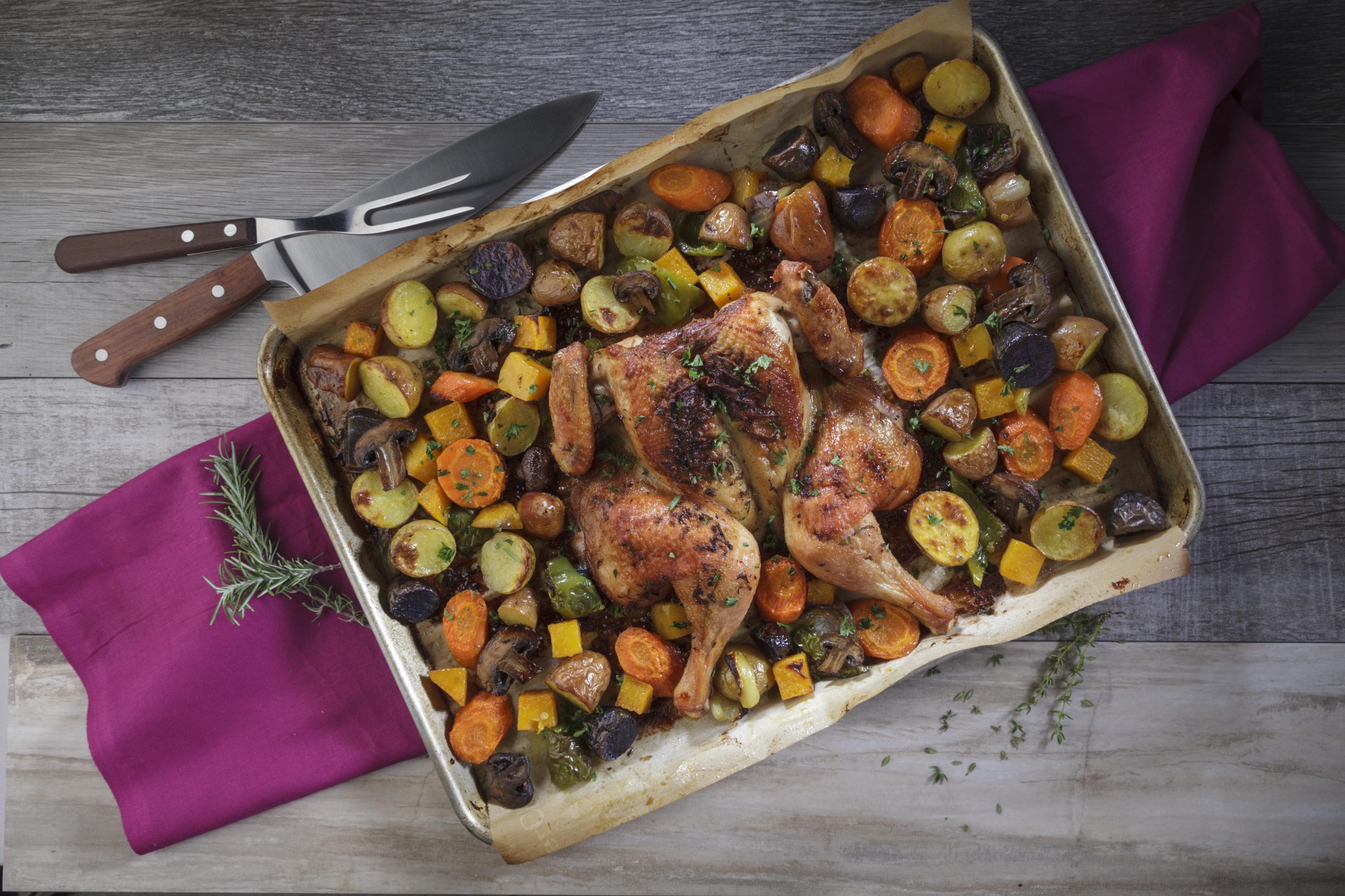 219 minutes
medium
serves 1
 This one tray recipe is an easy meal solution. Use 3 pounds of any vegetables you may have on hand that can withstand the 45 minute baking time!
Adjust Servings
3.5

lbs

Whole Chicken (backbone/spine removed)

2.5

tbsp

MAGGI® Season-Up! Chicken Powdered Seasoning (10g) (or 3 and a half 10g packets)

1.5

lbs

Fingerling Potatoes (halved)

0.5

lb

Butternut Squash diced in 1-inch pieces

2

Medium Carrot (diced in 1-inch pieces)

1

Large Red Onion (cut into wedges)

Large Sweet Peppers (diced in 1-inch pieces)

0.5

lb

Mushrooms (cut in halves)

2

tbsp

Olive Oil

2

tbsp

MAGGI® Season-Up All Purpose Powdered Seasoning

6

tbsp

Butter (chilled)
1.
In a large bowl, season chicken with MAGGI® Season-Up Chicken and leave to marinate in the refrigerator for 2 hours (for best results marinate overnight)
2.
Remove chicken from the refrigerator and bring to just about room temperature.
3.
Preheat the oven to 425˚F (220˚C), line a sheet tray with foil and spray with non-stick spray. Set aside
4.
In a large bowl, add potatoes, carrots, red onion, sweet peppers, mushrooms (or vegetables of choice) ,olive oil and MAGGI® Season-Up All Purpose.
5.
Toss until all vegetables are well coated and set aside.
6.
Place the chicken on a cutting board skin side up gently pressing the breast area to flatten. You may hear a pop.
7.
Transfer flattened chicken onto the prepared sheet tray and carefully loosen the skin from the breast, leg and thigh areas.
8.
Gently spread ½ of the garlic herb butter under the chicken skin, ensuring that it covers most of the chicken.
9.
Spread remaining butter onto the top of the chicken.
10.
Place the seasoned vegetables around the chicken and bake for 40-45 minutes or until chicken skin is crisp and chicken is cooked through.