Crispy Honey Garlic Fried Chicken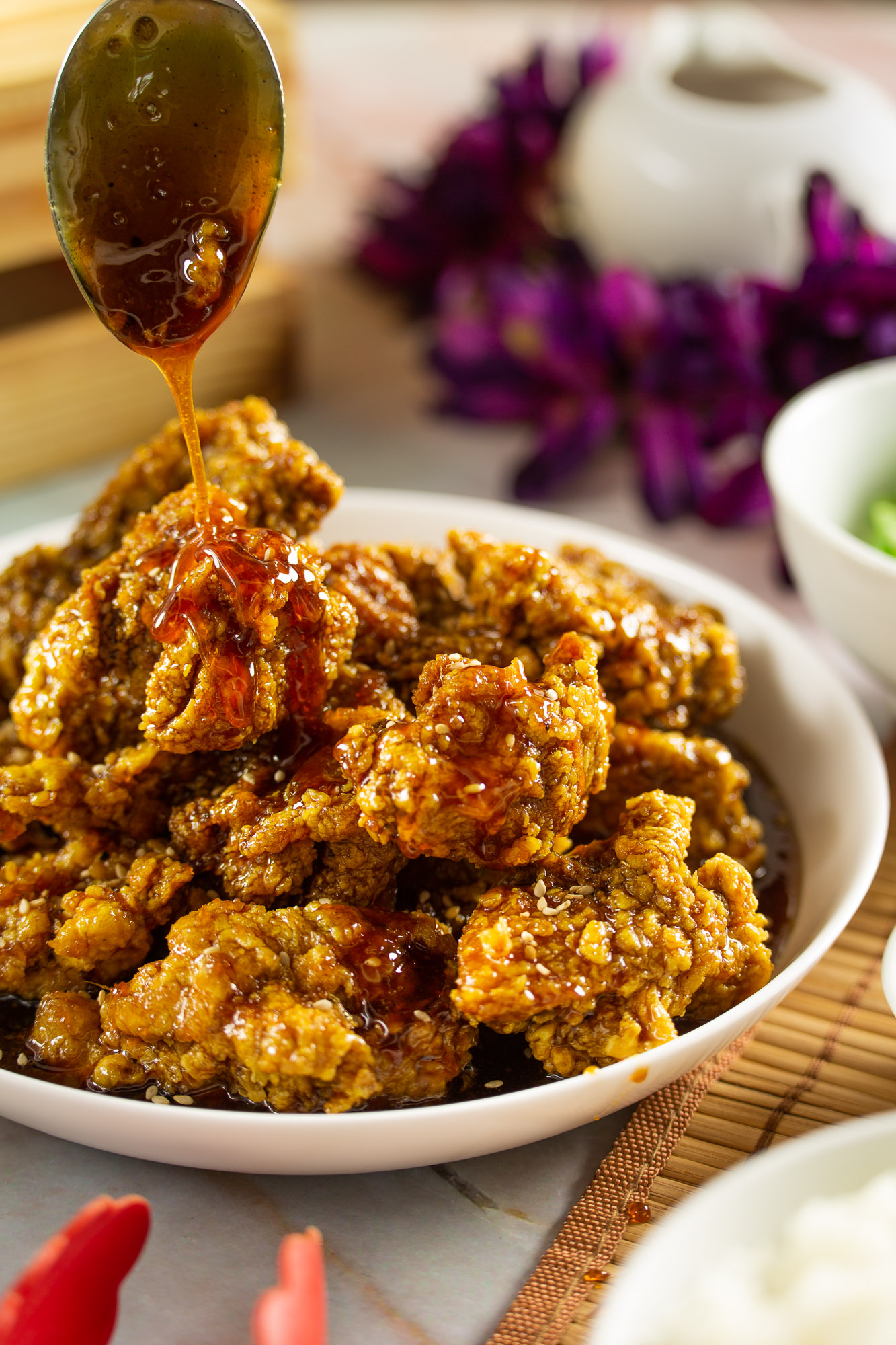 Crispy Honey Garlic Fried Chicken by The Best Dressed Chicken.
Adjust Servings
10

oz

boneless chicken thighs (skinned)

1

whole egg

0.5

tsp

curry powder

0.33

cup cornstarch (1/3 cup)

0.5

cup all-purpose flour

1

tbsp

soy sauce

2

cups vegetable oil for deep frying
For the sauce
1

tbsp

vegetable oil

6

cloves garlic (minced)

1

tsp

ginger (finely chopped)

5

tbsp

honey

2

tbsp

brown sugar

0.75

cup water

1

tsp

corn starch

1

tsp

sesame oil

1

tsp

sesame seeds

1

tbsp

green onions
1.
In a mixing bowl, combine the cubed chicken thighs, curry powder, and soy sauce. Mix well and set aside.
2.
For the sauce, combine the water, honey, and brown sugar in a bowl and mix well. In a pan, heat the vegetable oil at medium high heat and cook ginger and garlic until fragrant and soft.
3.
Pour the liquid mixture in pan and let cook by stirring occasionally. While the sauce is slowly cooking, mix cornstarch and water in a small bowl to make a slurry.
4.
Slowly add the cornstarch slurry into the pan while constantly stirring the mixture. Cook over medium heat until sauce thickens. Add sesame oil and mix well.
5.
To make the fried chicken, whisk together the all-purpose flour and the rest of the cornstarch. Make egg wash mixture by cracking two eggs and whisking them thoroughly. Dip seasoned chicken into egg wash then into the flour. Repeat this step once more to double coat the chicken. Place on a plate to rest for frying.
6.
Heat a small wok or caste iron pot. Add the oil for deep frying.
Gently fry the chicken in batches for about 7 minutes until a nice golden-brown color develops. Then remove from oil and place chicken on drying rack for about 5 minutes.
7.
Add the fried chicken into the pan with the cooked sauce and mix well. Top with sesame seeds and green onions.
8.
Serve with yummy steamed rice and sautéed Pak Choy.
Enjoy!