Christmas Pudding with Rum Butter Sauce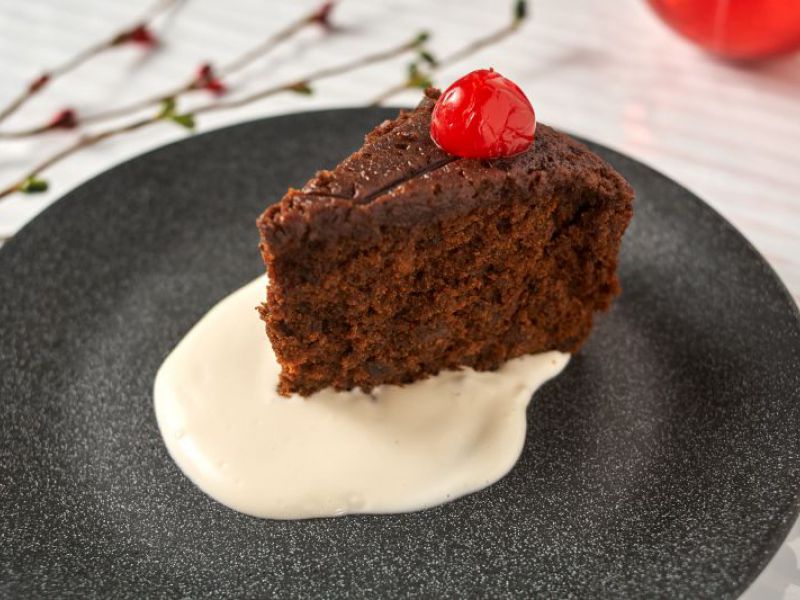 Adjust Servings
1

cup Grace Margarine

1

cup granulated sugar

4

medium eggs

2

tsp

vanilla essence

1

tsp

rose water

1

tsp

lime juice and rind

1

cup prunes

1

cup mixed peel

1

cup raisins

0.5

cup cherries

0.5

cup currants

4

tbsp

Grace Browning

2.5

cups flour

2

tsp

baking powder

1.5

tsps

mixed spice
Rum Butter Sauce
0.75

cup icing sugar

3

oz

Anchor Butter or Grace Margarine

2

tbsp

white rum
1.
Grease and line a 9 inch cake tin.
2.
Cream margarine and sugar until light and fluffy.
3.
Add eggs one at a time and beat well after each addition.
4.
Add vanilla, rose water, lime juice and rind.
5.
Add blended fruits and browning.
6.
Incorporate the flour that has been sifted with the baking powder and mixed spice. Use a little wine to adjust consistency, if necessary.
7.
Scrape batter into the lined cake tin and cover using foil paper then with the lid of the cake tin.
8.
Place cake tin into a large pot with a tight fitting lid. Steam on stove top for approximately 2 hours or rest the cake tin in a container with water in the oven at 180°C (350°F) and steam for approximately 2 hours.
9.
Rum Butter Sauce Directions
Sift icing sugar in a bowl. Add Anchor Butter or Grace Hello Margarine and mix together with icing sugar. Mix in the rum. Place mixture into a piping bag with a rose tip. Pipe rosettes on waxed paper and chill in a refrigerator.
To Serve: Serve with Christmas Pudding, or your favourite dessert and decorate with red maraschino cherries and mint leaves.